---
Shad Flies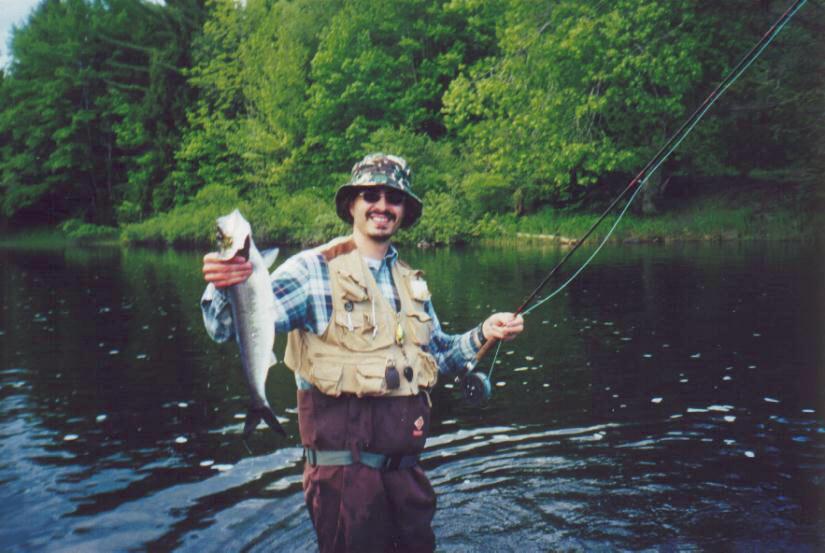 The American Shad run occurs every spring in many rivers along the eastern seaboard. The best Shad fishing in close proximity to the South Shore would take us to the Annapolis River. There, thousands of Shad return every year to fresh water to spawn. Much like the Atlantic Salmon, nobody really knows why they take lures and flies on their journey but when they do they can give an angler a mighty display of brawn. Often called a "poor man's salmon", the Shad averages 14-29 inches. Although their numbers would suggest an endless supply, we must not be foolish and practise catch and release whenever possible. A few to the smoke house would be the exception to the rule.

NOW, for the shad flies. One thing I'm going to correct right here and now, the flies that follow will all have a NAME. I'm sure you have noticed in your travels that most shad flies are nameless. Why? Are these fish so blindly dumb that they will take any fly before them? No. Can you simply toss out anything and expect a glorious battle to immediately follow? No. So wouldn't a name be appropriate to expand on the tales to your buddies? Yes.
I agree that there are times when these fish will bite damn near anything but there are also times when trout, bass, salmon and other fishes will behave in the same manner. Maybe not quite as often as shad but they still do. When we relate a story on a day's fishing for trout, do we simply say we got them on the ol' trout fly? No. So from here on let's show these flies a little respect, ok? There are times when certain colors and patterns will out produce others. If you see your buddy down river swinging them in hand over fist and you're curious as to what he's got. "A shad fly!" will no longer suffice, will it? No. Good then let us continue.
My fly box is full of various flies, but if I were to be limited to just a few the following flies would get the nod. Roll your mouse over the pictures to get the flies name. Click on the fly to get a closer look.
(The LaHave River has many regulations that change throughout the season. Gear resrtictions are common. Know the regulations before you do any angling.)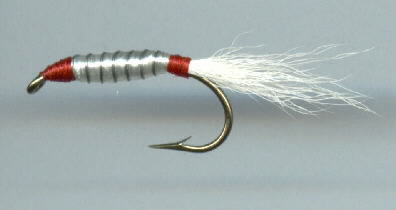 Here is a well stocked box of shad flies.
---
Joe Fleischman from Maryland, U.S.A. sent me this picture of "Joe's Red and Yellow"(named after the originator, Joe Bruce). Click on the fly for tying instructions and read what Joe had to say about his "Hickory Shad".
Joe ran into another angler in Maryland one evening while chasing shad. The two shared more than a passion for shad fishing, the stranger had read about Joe's fly that day earlier on this site. Needless to say both felt the "world wide web" get a little smaller that day. Here is the correspondence I recieved from those two gentlemen. Perhaps you too know them!?
---
Woody Whynot is a gent I met on the river while shad fishing. His box is only opened to those that he trusts won't let his secrets out. This one I will share with you but there are others I simply can not. Click on the fly to have a look at Woody with a nice Shad.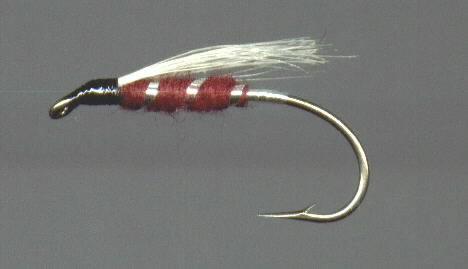 ---
The flies pictured below were sent to me by Barry Brown from California, U.S.A. He used these flies back in the 60's on the Eel River. Barry wrote "I don't think that I've ever had to use any other Shad fly pattern no matter where I fished." Now that's a testament!