---
LaHave River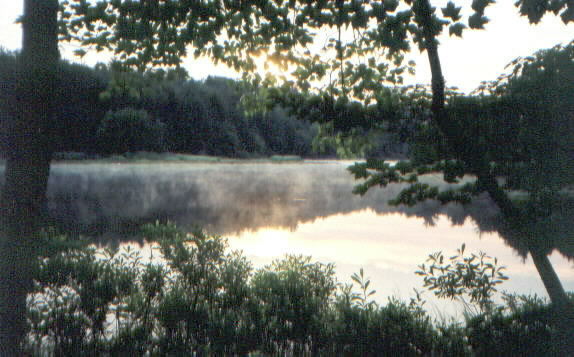 The River
The LaHave begins it's journey above Springfield at it's headwaters, Big LaHave Lake. From there it travels through many comminuties as it reaches for the ocean. New Germany, West Northfield and Cookville to name a few. It finally reaches tidal water at the small town of Bridgewater. No doubt many of these historic locations were founded due to thier proximity of the river. Providing power for mills and travel for logs, an asset to most small communties. Some remnants of those old mills and log jams can still be found on the river if one knows where to look. Through much of it's journey, highway route 10 accompanies it. So is it accessible? Very.
Like many other anglers I consider the LaHave "my river". I suppose that is a testament to this wonderful body of water. Until recent years the LaHave boasted wonderful Atlantic Salmon runs. That sparked a local club and many devote anglers. The club is called the LaHave River Salmon Association. They lead the way for sea-run trout stocking and are currently working on Cook's Brook restoration. I urge you to become a member, salmon angler or not.
(The LaHave River has many regulations that change throughout the season. Gear resrtictions are common. Know the regulations before you do any angling.)
The two pictures below show the head of the Mailman pool. One is shot from the south, the other from the north. While only a few weeks seperate the pictures note the change in water level.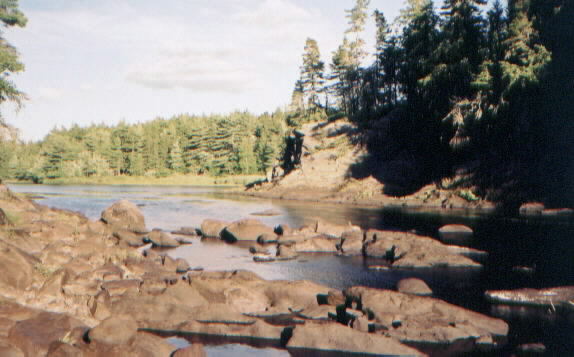 The Fish
Atlantic Salmon
What can I say that hasn't already been said about the most exciting gamefish in the world? As the salmon enters our river to spawn anglers become mad with desire. The LaHave has a rich salmon fishery history. With colorful tales of lies, treachery and other non-mentionables. Fist fights and harsh words between friends have been a mainstay on salmon pools for years. Thankfully, rotating pools with proper salmon etiquette has brought some order to the river banks.
If you wish to angle and do not know where to start, simply drive up route 10 during the season and tell-tale impromptu parking lots will show you where some of the pools are located. Pool names that disect the river in small areas where fish hold up. Some high water pools, some low water and some all water pools. Names you will encounter: Oak Run, Dauphniee's Run, Sink Spout, The Eddy, just to name a few. Approach a pool and watch other anglers work it and you will soon discover where people "think" the fish are holding up. There is a learning curve required before you can trick the king of all gamefish. If you have someone willing to aid you take advantage of it.
Although the number of salmon returning is only a fraction of past years there is still a hook and release fishery. For someone like myself, it provides a window into what the past might have been like. For anglers of experience it seems to re-open a wound each season of what was. One of the salmon's hurtles it must overcome appears to be the commercial fishery off of Greenland. The ASF is pushing for a zero quota but unfortunately our goverment does not seem to understand the jeopardy this fish is in. Without their support the plight of the Atlantic Salmon will continue. Pray, beg, steal or anything else you can to help save this amazing fishery. It appears to be going fast.
Pictured above is one of the most successful LaHave salmon anglers. Here Bucky is showing how to safley release a salmon.

Sea-run Trout

The river opened early in April, 2002. This was due to some recent stocking of sea-run trout. The local salmon club approached the DFO and asked if an early season would be permissible to angle for these fish. With these fish returning from the estuary they could provide some early season action. So with special regulations in effect the decision was made to open the river April 1st. This is going to be an exciting fishery but it is still in it's infancy. Perhaps a learning curve will be required? Time will tell if it proves to be a successful venture. In any case, all parties involved should be commended on trying to establish an alternative fishery for you and I.

American Shad

American Shad runs are relatively short but exciting. When the river closes in late May for fly angling only, the number of anglers reduce and a few evenings you may be lucky enough to have a shad run to yourself. Not often but occasionally. Although, as I have said elsewhere, shad fishing is best done on the Annapolis River. Our run on the LaHave is only a fraction of what the Annapolis River offers to anglers. The Shad Flies page has more information on this species.
Smallmouth Bass

The Lahave River is full of smallmouth bass if these are what you seek. While it seems that they may have misplaced many native fish, it seems to me that DFO and inland fisheries are promoting these to be a major sportfish in our province. The largest problem I have with these fish is the fact they are being transplanted illegally all across our province and they ones doing it are getting rewarded while ruining watersheds. These fish compete with our native fish for food and environment and it should not be taken lightly. The Lahave is full of them and they have come quite established in the river.You can catch large numbers of them on any given trip in a wide variety of sizes.
The smallmouth population on the LaHave is peaking. If one seeks a lot of fish, they can catch 'em. These fish can be found basically anywhere within the system. There are spots however that provide optimum conditions and this is where you will find the bigger fish. Look for areas that provide shelter and easy access to forage. Smallies are very structure oriented. If it looks like it should hold a fish, chances are it does. I'm a firm believer (most of the time) that big fish eat big things. The bass season here runs until the end of Ocotber.

Striped Bass

Stripers once upon a time frequented the LaHave River. Tales of men catching 30+ pounders are not uncommon. It seemed that most of the fishing was done at the Silver's Brook outlet down to the old government wharf. Flyfishing was not the technique used, however, hand-made plugs and cut bait seemed to have provided all the action one needed. Fishing for striped bass on the LaHave was not a popular fishery but for those whom had success, they gained a little local notoriety. One of those few gentlemen is Bruce Oakes of Bridgewater. Snap shots in the local paper and a Ten Penney(local beer) big fish win have imbedded his name into local angling folklore.
These pictures were provided by his son, Keith. Time has aged the photos(around 15-20 years) but it gives you a glance into the past. The picture of Bruce holding a 35lb bass must have been taken by a woman. The tip of a thumb is in the foreground and the top of his head is cut off. Mind you, she still managed to get the key elements; fish and a big grin. The other picture shows two beasts laying by a metre stick. Well done Bruce!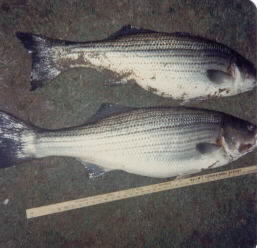 So what's the status of the striper fishery now on the LaHave? Well, they have been spotted and some angling has been done but I know of no one who has been successful the past few years. Perhaps a little effort would yield some results. Fly rodders elsewhere take them on big clousers. If you are fishing below Silver's Brook you would be able to use weighted flies for the entire season. If any of you have tried striper fishing on the LaHave I would love to hear from you.

The Flies
If you are curious as to what I might suggest a first time shad, salmon or bass angler on the river use, just click on the links for a beginner packs of flies for each fish.

Salmon Flies Bass Flies Shad Flies Tube Flies
Gary Fraser, Canada, ©1999-2011. All Rights Reserved.