---
Bass Flies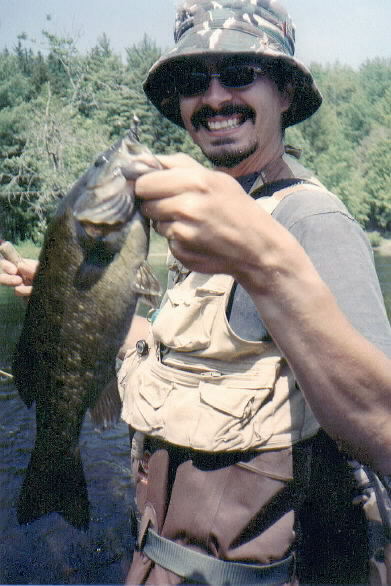 Never transport Live sportfish
First of all I have to admit Smallmouth Bass are not the number one fish I target. I grew up in Cape Breton where there were none until they were recently introduced to Lake Ainslie so my passion for Trout and Salmon was embedded at a young age. Now Cape Breton is also dealing with the illegal introduction of chain pickeral from some selfish uneducated anglers who feel the need to transplant these fish at will. I do fish Smallies some and we have caught some very large (20"+) fish on the fly but the joy of the fight is lost as I see it as a losing battle for the native fish that used to flouish in these watersheds. I do not condone the spread of any fish including minnows used as bait as I see this a disaster to our native species. My kids love fishing them in August on the South Shore when the top water action is wild. The fact they get so excited is the most enjoyable part of fishing them for me.
They are a fish we catch many of while fly fishing for trout and salmon and we are quite concerned about this on our scheduled salmon rivers. Our returning salmon numbers have been on a decline over the last number of years even through all of the efforts from our active groups and associations and we see these as a threat to them as well. That being said they have flourished in the watersheds on the South Shore and are here to stay hopefully in harmony with our native species and not completely diminish them. To be honest these are the fish we reccomend as a shore lunch since they are such a fast and steady reproducer.

Bass Flies
(The province has many regulations that change throughout the season. Gear resrtictions are common. Know the regulations for the water your fishing prior to you doing any angling.)
I have caught smallmouth Bass on almost anything and have found they are very aggressive and will strike hard. I have caught them fom a #16 adams to a #2 Green Highlander Salmon fly. Muddlers and Bomber's used on topwater are producers in the summer and the Wooly Buggers and Deceivers effective for sinking patterns when the water is colder in the spring and fall.
---
Click on the flies for close-ups.
A bugger can imitate many forms of underwater life, from nymphs to leeches. My favorite is black with a grizzly hackle. Bead heads can be added to get your fly a little deeper.
---
If I were limited to one fly it would be a Muddler Minnow. It is my number one producer and has caught every fish I have targetted. It imitates small baitfish and also terrestrials. In heavy water I like the traditional tie. In slack or still water I prefer a rabbit strip wing.
---
A Deer Hair Popper is good for topwater action. Taking a bass on a popper is exciting. Timing is crucial. One tends to pull the fly from the fish when the strike occurs. Remember to feel the fish before you set the hook. The color I like is the traditional red and white. There is something about this color combination that bass just love.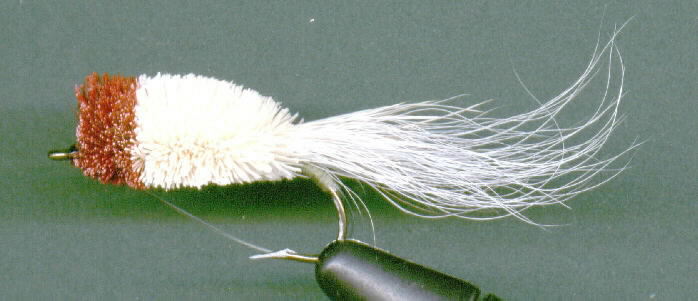 ---
Ok, this is for you dry fly fanatics the Royal Wulff is high floating and has high visibilty. I've got one in my box that has seen a lot of fish. All that's left of the red floss is a few strands.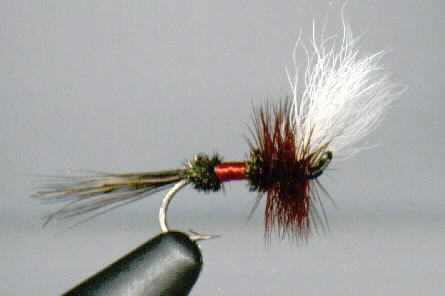 ---
I could not imagine suggesting flies to try and not mentioning the Mickey Finn as one of the "must haves". Many anglers swear by this fly and fish it faithfully with great scucces. If you are just starting to tie, this is a great fly to try. It uses only a few readily available materials and even the most feeble attempt is rumored to catch fish.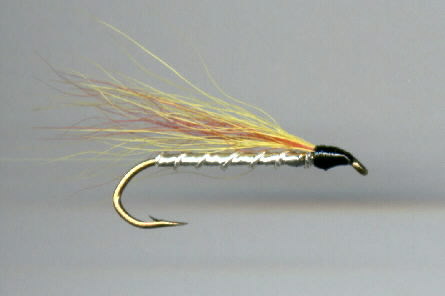 ---
Last but not least, the Clouser Minnow. This is truly the best smallmouth fly ever invented. Specifically made for river smallies, this fly will produce your better fish. Tying variations can produce a glide on the fall or a quick drop. They can also be tied in an endless scheme of colors. Be very careful casting these flies as all weighted flies cones and eyes as they can be very destructive to your rod if they hit or nick as you cast.
Gary Fraser, Canada, ©1999-2010. All Rights Reserved.