---
Sucker Lake
Kid-Riv with a monster Bow!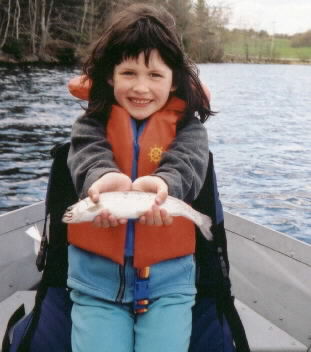 Sucker Lake provides us with the only rainbow trout angling in Lunenburg County. Had it not been for the Lunenburg County Wildlife Association we would not enjoy this alternative fishing today. The L.C.W.A. was instrumental in approaching the DNR with the idea and they also provided a boat launch as well. Their work is not done however, they aid in the frequent stockings and tend to a mesh gate that helps to keep the rainbow in Sucker Lake and not venture to neighboring Mushamush. This provides a good case in point that supporting an angling or hunting association is a good investment.
Along with the stocking of rainbow trout, the lake also has yellow perch, brook trout, smallmouth bass and of course suckers. I've caught all but the suckers have eluded me. I can attest, however, that there are some monster suckers in there. If any of you come up with a good fly pattern for suckers, let me in on the secret please.
Getting There
There are many ways to get to the lake but for time's sake, I'm going to tell you the way I go, which is from Bridgewater. Leaving Bridgewater, you take Trunk #10. This will wind along the LaHave for the most part until you enter West Northfield. In West Northfield you will come upon a road on your right that will take you to Upper Northfield. You can't miss it, there is a huge red chicken barn right by the turnoff. Follow this road for approximately 10 minutes and you will come to the crest of a hill that overlooks Sucker Lake. At the bottom of the hill is the Harold Silver Road on your right, take it. From here you can't miss the boat launch, it's only about a hundred yards or so from the main road. Some of you may notice that the the preceeding instructions were the same as that to Mushamush. Correct, both lakes are within a stones throw to each other. Quite often I've fished both lakes in one day. If action is slow in one you can always turn to the other. Doesn't often change the fishing production but hey, a change of scenery is always nice.
Boat Launch
As stated earlier, the boat launch is courtesy of the Lunenburg County Wildlife Association. As always, prepare before you enter the launch, tidy up your gear after you leave the launch and take any garbage with you before you leave.
Rainbow Trout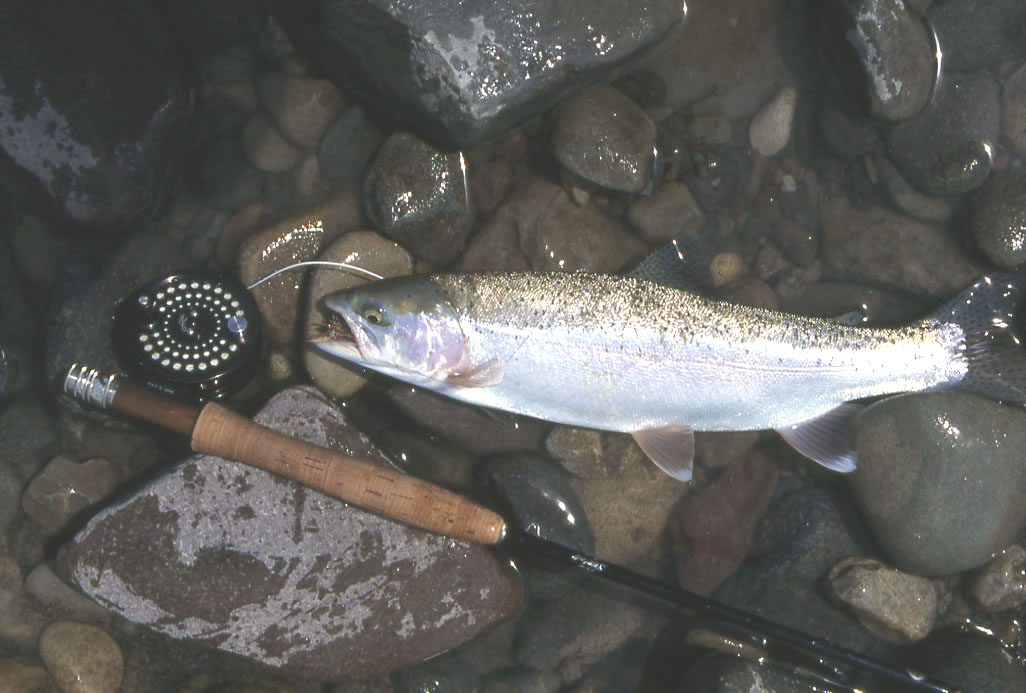 Ok, I'm not going to lie to you, if you are looking to catch rainbows at any cost, you probably wouldn't choose a fly as your first attack. I hate to say it but if you were to go for numbers of fish, corn would be the ideal choice. Day in and day out corn probably accounts for the majority of rainbows taken on the lake. Some people even go as far as to what type of corn they think the fish prefer. Now on the other hand, if you don't mind being outdone by other anglers, you can still make a dent with flies. There will be days when you can outfish the bait fishers as well.
What flies to bring? I like the good ole Muddler Minnow, tied with a yellow marabou wing(maybe it's a hint of corn). Another variation of the muddler that a friend tied for me that works very well is what I call the Billfly. It incorporates bead chain eyes for weight and an all-marabou body that pulsates with any movement; something that is ideal when fishing in still waters such as a lake.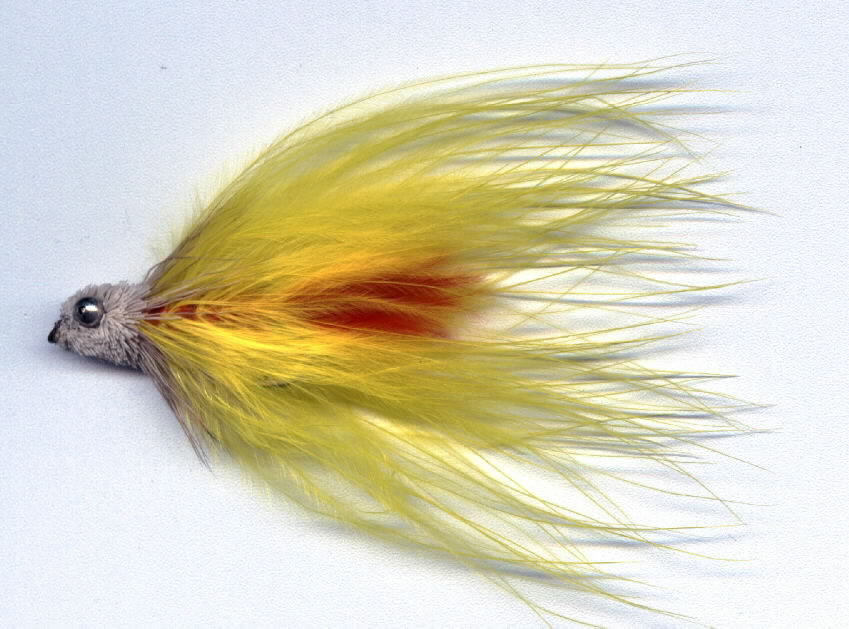 Another fly that has brought me a wee bit of luck is the Little Brook Trout. While trolling works reasonably well, I've found that working this fly off the rocky drops produces the best fish.
Ice Fishing?
What do we do to pass the winter bules away? Why not try ice fishing? Cutting a small hole in the ice and then standing back about 50 feet I cast to the hole with various patterns. Is he serious? No. My ice fishing is done like everyone else, usually corn, sometimes jigging spoons and on occasion power bait. Kevin Corkum and I built a portable shack to help us brave the elements. A lack of fish can usually be tolerated if you're warm and your belly is full. Both of which a shack will provide for you. Our shack is 8' x 4'. The middle is a tarp and the ends, which fold down onto each other, are hardboard. Easy to set up and easy to take down. Don't suffer the winter blahhs, blow the dust off that ol' rod and head on up to Sucker Lake. Drop by and say hi!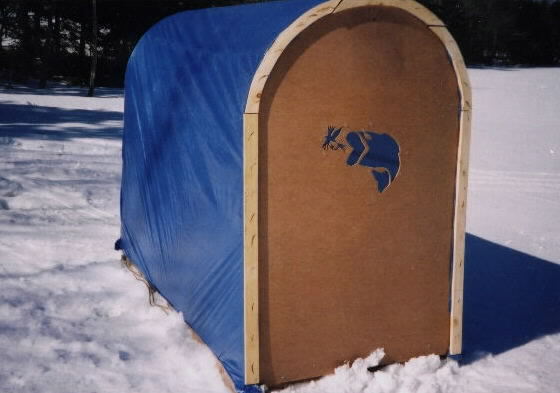 INDEX
Gary Fraser, Canada, ©1999-2011. All Rights Reserved.