Click on them to see a larger image. I'll add more as time permits. The Shad Flies and Tube Flies pages also have some of my own originals. That's the wonderful thing about dressing your own flies, you can make your own original fly then lie to everyone about how well it does. Enjoy.
---
Click on the flies for close-ups.
This fly is from the local patterns page. I've made a simple variation. The Caledonia Killer is often tied with either green or orange bodies. I like both so I use half orange and half green. Not much of a twist but I like it this way.
---
The Grey Ghost and other fully dressed streamers have a magical look about them. They are very affective in the spring for trout and always catch a few fishermen too.
---
I first saw this tied as a streamer in the Hatches Magazine. I have caught several nice fish on the first one I wet so it became a favorite quickly.
---
This fly is such an effective streamer that many use only this in NB for Black Salmon. Easy to tie with cheap available materials make it a great pattern to learn to tie.
---
This fly is a killer for many species early. This has been one of my best producing flies over the last 10 years since I saw a rabbit strip fly on another Nova Scotia site and changed the colors to closer match the minnows the larger fish were gorging on. So much so a few of the anglers I fish with did not want me to add it to the site and share it. Take note of the "STINGER" hook it is tied on as it has increased my hookups while trolling with flies.
---
This fly is a brain storm I had while fishing the Lakes in Cape Breton Highlands. Some of these lakes are full of olive colored newts and this is a pattern that came from watching the larger trout in these lakes feeding on them. It has since caught trout and salmon in many other local watersheds.
---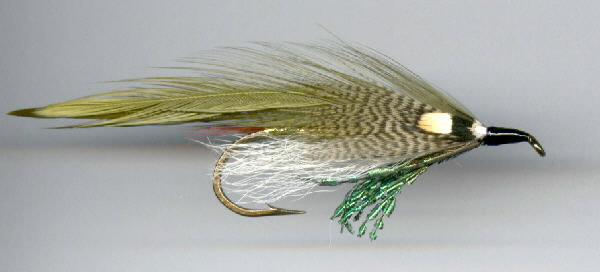 >
This is an attempt to fool those old guys that eat small guys. A feather wing streamer tied Carrie Stevens style.
---
Gary Fraser, Canada, ©1999-2011. All Rights Reserved.